This private and confidential 20 minute FREE phone consultation with Bernadette our specialist Bariatric Care Consultant to discuss and be informed about the following: • Weight Loss Surgery options • Pre-op assessments • Dietitians • Cost, health funds, self-funded, accessing super, payment plan option • Weight Loss Surgery package – what is included • Hospitals and Hospital stay • After-care programme • All clinic visits Please ensure that you answer the questions that are asked prior to making an appointment. If you are only interested in obtaining a price, please call our rooms on 9466 7799.
Bernadette
Bariatric Care Consultant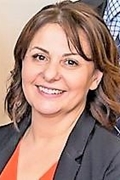 Book your FREE 20 min phone conversation with Bernadette our Bariatric Care Consultant who will provide you with information and answers to your questions regarding Weight loss surgery.
Phone Consultation only, Phone consultation only
(03) 9466 7799
Monday

Tuesday

Wednesday

Thursday

Friday

9:30am - 4:30pm

9:30am - 4:30pm

9:30am - 4:30pm

9:30am - 4:30pm

9:30am - 12:00pm